Edge Span U1000 IP65/NEMA4 Outdoor UPS 1KW/2KW DC Version

IP65 High Power Density Outdoor UPS
Edge Span U1000 IP65/NEMA4 Outdoor UPS Product Overview

Edge Span U1000 IP65/NEMA4 Outdoor UPS is an All in One Outdoor UPS specially designed by Edgeware for Telecomc scenario power backup solution. Common scenarios such as wireless base station RRU backup, 4G/5G small cell power backup, and high rated power outdoor WIFI Hotspot backup. The Edge Span U1000 has been specially optimized for outdoor scenes, and has the following features:
(1) High power density design, minimize the lightening of the whole system, make the system easy to install, Plug and Play
(2) The UPS system is designed for an outdoor environment, with natural heat dissipation and no need for fans. The whole system is maintenance-free.
(3) The system has a complete lightning protection design and under-voltage, over-voltage, short-current protection, suitable for deployment in any area of the world where the power network is imperfect.
Edge Span U1000 IP65/NEMA4 Outdoor UPS Specification Overview
Model

 Function

Input

Output

UPS

Battery

Dimension

Ingress Protection

Customization

Edge Span U1000 IP65/NEMA4 Outdoor UPS

IP65/NEMAX4 Outdoor UPS Desinged for Telecom Scenario 

AC 110V/220V Single Phase

DC48V 2-6 Channels Based on Request

1000W/2000W DC-UPS 

External Battery 

351mm*355mm*214mm

(W*H*D)

IP65/NEMA4

Available

Typical Application

•Rugged outdoor UPS for Telecom Power Backup Solution

•Pole Mount UPS or Wall Mount UPS

•4G RRU Power Backup 

•4G/5G Small Cell Power Backup

 
Edge Span U1000 IP65/NEMA4 Outdoor UPS Application Scenario

Edge Span U1000 IP65/NEMA4 outdoor UPS is specially designed for telecom power backup solution. It supports pole mount scenarios for quick installation and wall mount scenarios. Edge Span U1000 can send back running status information through 4G or Ethernet GE SFP interface. Information will be collected on Edgeware's Convergence Software Platform. Our software platform can also report UPS operation information to the customer's software platform by developing the North Bound Interface.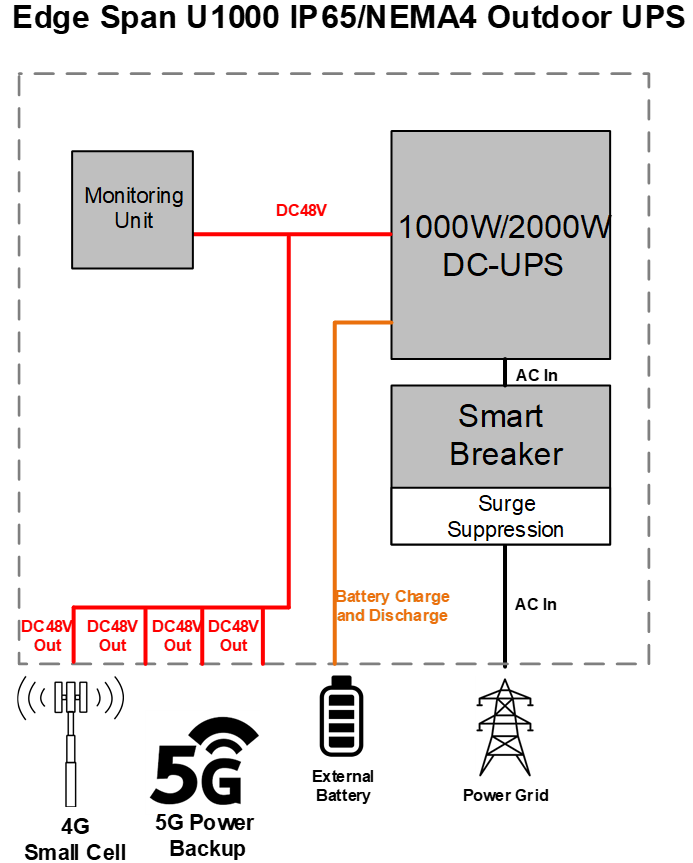 Edge Span U1000 IP65/NEMA4 Outdoor UPS is a Outdoor Power Solution designed for telecom scenario. In the system we already included smart breaker and suge suppressor for system protection. We can choose 1KW or 2KW DC-UPS to provide power back up to the telecom device. Edge Span U1000 IP65/NEMA4 outdoor ups support both lithium battery and AGM battery.
The system includes 1000W/2000W DC-UPS, which can be selected according to customer scenarios. DC-UPS is completely based on natural heat dissipation design, no fan is required for heat dissipation, and all components are industrial grade.
External battery can be lithium battery or AGM battery. Edgeware 's battery options can be used in this scenario:
The system integrates Edgeware's Smart Breaker and Surge Suppressor All in One module to provide 20KVA level lightning protection for the system. At the same time, it can provide Under-Voltage, Over-voltage, Over-Current, Short-Circuit Protection for the system.
Edge Span U1000 IP65/NEMA4 outdoor UPS integrates the Monitoring unit to monitor the operation of the whole system
Edge Span U200 All in One Outdoor UPS Features

The entire Edge Span U200 All in One Outdoor UPS system is constructed with an IP65/NEMA4 grade aluminum housing with strong outdoor corrosion resistance. And the system is fully sealed and can be deployed in any area without fear of environmental challenges.
Good heat dissipation design and all industrial-grade devices make the system no longer rely on fans, but rely on natural heat dissipation. Therefore, the system no longer needs to be maintained and replaced due to the fan.
2.Highly Reliable UPS System Designed for Outdoor Appliation
Industrial Outdoor UPS system is used in various and complex environments. The UPS systems we developed for the system are all based on outdoor harsh environment design and have industrial-grade stability and reliability, and can adapt to an ambient temperature of 60°C.
3.Comprehensive Lightning and Surge Protection
The Edge Span U200 is used in an outdoor environment and is inevitably threatened by lightning and surge. Based on Edgeware's rich experience in outdoor lightning protection, we have designed perfect lightning protection for both signal and power systems.
At the same time, based on Edgeware's smart breaker, it realizes the protection of over-voltage, under-voltage, over-current and short-circuit.
4.Rmote Moitoring Software Platform to Simplify Operation
Edgeware has always emphasized that CAPEX and OPEX are equally important. The core of reducing the OPEX of the Edge Industry PowerCube scenario is to provide complete Remote Monitoring.
Based on Edgeware's Convergence Software Platform, it can realize complete remote monitoring for customers.
Edge Span U1000 IP65/NEMA4 Outdoor UPS Specifications
Edge Span U1000 IP65/NEMA4 Outdoor UPS Specification

Dimension

W*H*D 295mm*355mm*214mm

Weight

14kg(with all system)

Material

Aluminum

Ingress Protection

IP65

Heat Dissipation

No fan design, natural heat dissipation

System Operating Temperature

-20~+75°C, 5%~90% RH Non condensing

DC-UPS

Rated Power 1000W or 2000W

Input 110V/220V 50/60Hz Output 42.00-58.00VDC

Battery

External Battery

Network and System Surge Suppression

20KVA

Smart Breaker

Remote control power on and off from Edgeware convergence platform

10A 110v/220v

Leakage Protection

Overvoltage Protection

Under Voltage Protection

Overcurrent Protection

Short circuit Protection

Lightning Protection

Output Power

DC48 2-6 Channels Can be Customized

System Monitoring and Management

Work with Edgeware Convergence software platform to perform system monitoring and management

Environment Monitoring

System temperature, humidity.

Box open and close status

UPS Status Monitoring

Input Voltage, Output Voltage

Input/Output Power,Rated Power

Battery Charge/Discharge Current

Input Current, Load Current

Normal, Power Grid Off, Fault

Smart Breaker Monitoring

Remote Control

Failure Status

Voltage

Current

Undervoltage

Overvoltage

Overcurrent

Current leakage
UPS Module Specifications
| | | | | | |
| --- | --- | --- | --- | --- | --- |
| Input voltage range | Rated Output Voltage | Rated Output Power | Precision Rate | Output Ripple | Battery Recommended |
| 90~280VAC | 53.5VDC | 1KW/2KW | ≤±1% | ≤200mVpp |   |
| | | |
| --- | --- | --- |
| Item | Specification | Notes |
| Working Temperature | -30℃~+60℃ Full Load | Long Time Operation |
| Storage Temperature | -40℃~+70℃ |   |
| Humidity | 10-95% | No Condensation |
| Altitude | 0-4500 meters |   |
| Atmospheric pressure | 70~106 kpa |   |
| Cooling | Natural cooling |   |
| Noise during Operation | < 42dB |   |
Item

Specification

Notes

Rated Input Voltage

90-280VAC

 

Max Input Current

20A

 

Input Impulse current

40A

 

Undervoltage Protection

200VDC/85VAC

1s System in Protection

Overvoltage Protection

410VDC/300VAC

Undervoltage

Recovery

220VDC/100VAC

5s Delay System Recovery from Protection

Overvoltage Recovery

405VDC/295VAC
Item

Specification

Notes

Rated Output Voltage

53.50 VDC

In lead-acid battery mode, standard float voltage

Output Voltage Range

42.00-58.00VDC

Monitoring adjustment, automatic adjustment of floating charge

Rated Output Power

1KW/2KW

The current limiting and power limiting parameters during power operation will automatically adjust with changes in voltage and temperature.

Rated Output Current

10.4A/20.8A

Max Output Current

1.20In(Hardware Constant Current Control)

Efficiency

≥94%

Source Adjustment Rate

≤±1%

Load Regulation Rate

≤±0.6%

Output Ripple and Noise

≤200mV

Rated input, full load output, bandwidth limited to 20MHz

Shutdown Hold Time

≥10mS

Switch On/Off Overshoot Range

≤±5%

Switch On Output Delay

3-8s

Dynamic Response Overshoot

△V:≤±5%

25%~50%~25% or 50%~75%~50%

Dynamic Response Recovery Time

≤200uS

Output Undervoltage Protection

< 30V

When system go into protection, delay 30S to restart。

Output Overvoltage Protection

> 62V

System Locked; power off and restart to unlock.

Output Overcurrent Protection

≥1.1In,last 30s protection

When system go into protection, delay 30S to restart。

Output Short Circuit Protection

Hardware current limit,0.2s system switch off

Over Temperature Protection

Switch based on temperature plus software over temperature protection
Item

Test Condition

Notes

Anti-Electricity

Strength

Input to Output

3000Vac/10mA/1min

No Flashover, No Breakdown

Input to GND

1500Vac/10mA/1min

No Flashover, No Breakdown

Output to GND

500Vdc/10mA/1min

No Flashover, No Breakdown

Output to Communication Port

500Vdc/10mA/1min

No Flashover, No Breakdown

Insulation

Resistance

Input to Output

≥10MΩ @ 500VDC

Under normal atmospheric pressure, relative humidity is 90%, when the test DC voltage is 500V

Input to GND

≥10MΩ @ 500VDC

Output to GND

≥10MΩ @ 500VDC

Leakage Current

 

<3.5mA

Rated Input Voltage

Design According Safety Regulation

UL60950  EN60950

Design meets standard requirements

 

 

EMC

CE

CLASS A 6dB lower (or 6dB lower than CLASS A with the system)

CISPR 22(1998),

FCC PART 15(2012-05)

RE

CLASS A 6dB lower (or 6dB lower than CLASS A with the system)

CISPR 22(1998),

FCC PART 15(2012-05)

SURGE

LEVEL 2 B

EN61000-4-5,EN55024

ETSI EN 300 386 V1.3.2

LEVEL 3 R

EN61000-4-5,EN55024

ETSI EN 300 386 V1.3.2

EFT

LEVEL 3 (2kV/5kHz) B

EN61000-4-4,EN55024

ETSI EN 300 386 V1.3.2

ESD

A.  Contact Discharge:±6kV/8kV;

Air Discharge:±8kV/15kV;

B. Number of Discharges: 20 Times for Positive and negative electrodes

C. Performance judgment level: B/R

EN61000-4-2,EN55024

ETSI EN 300 386 V1.3.2

CS

Harassment Intensity:10V

Performance Judgment Level: A

EN61000-4-6,EN55024

ETSI EN 300 386 V1.3.2

RS

Harassment Intensity:10V/m

Performance Judgment Level: A

EN61000-4-3,EN55024

ETSI EN 300 386 V1.3.2