Edge Easy Portable Tiny Solar Storage System
Edge Easy Portable Tiny Solar Storage System Driving LED Light
Edge Easy Portable Tiny Solar Storage System Overview
1. Edge Easy Series Portable Tiny Solar Sotrage System Application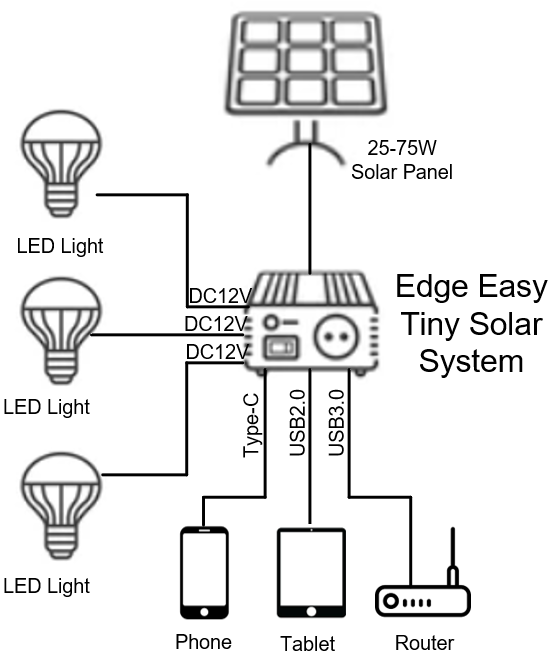 Edge Easy Portable Tiny Solar System is a small solar system designed to cover the basic needs of household electricity in rural areas. Edgeware found that villages and small towns in rural areas in many developing countries around the world do not have electricity coverage. However, people in these areas are subject to various natural and social conditions, and the overall economic level is not high, so they cannot afford the large and comprehensive solar system on the market. What they need is basic power coverage to provide the most basic lighting and charging needs for communication facilities. The Edge Easy Tiny Solar System is designed to meet people's needs for basic power coverage in this scenario, providing an all-in-one, affordable solar solution. The Edge Easy Series has the following key features:
Edge Easy is an all in one system, including solar controller, lithium battery, USB2.0/USB3.0 charger, Type-C charger, three channels DC12V output for LED light and other devices.
Edgeware believes that tiny solar systems like Edge Easy are designed for home usage. So its safety and reliability are very important. Edgeware uses high-quality LiFePo4 lithium battery, and the whole machine is designed with perfect over-current and over-voltage protection.
2. Edge Easy Portable Tiny Solar Storage System Interfaces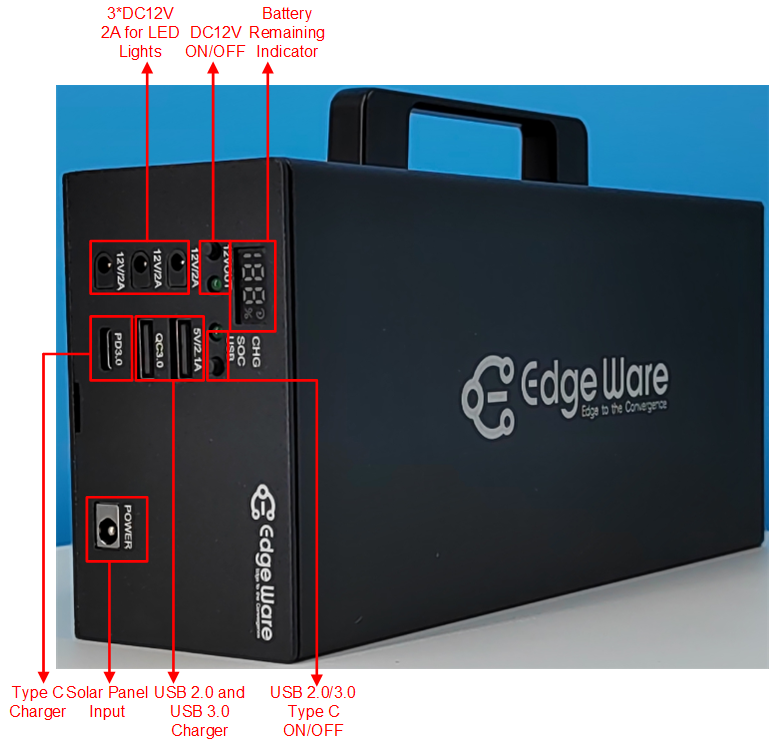 General Specifications

Dimension

L*220mm*W100mm*H60mm

Weight

2.5Kg

Input Interface

1*Solar

Output Interface

3*DC12V

1*USB

1*USB 3.0

1* Type-C

Box Case Material

Galvanized steel

Portable

Portable with One Handle

Working Temperature Range

-10°C–50°C

Solar Input

 

Solar Panel Capacity

Capacity < 70W 

Edgeware provides 25W/50W/70W three options

Solar Panel Max Power Voltage(Vmp)

18V

Short Circuit Current(Isc)

4.27A

 

Solar Controller Tracking Method

MPPT

Output

DC12V 3 Channels

Max 2A DC12V Per Channel

USB OUTPUT

5V 2A

USB QC3.0 OUTPUT

Max 24W

Battery

Battery Type

LiFePo4 Lithium Battery

Nominal Capacity

12Ah

Nominal Voltage

12.8V

Max Energy Stored

153.6Wh

Cycle Life

2000 times
3. Edge Easy Portable Tiny Solar Storage System Accessories
The Edge Easy Portable Tiny Solar System has different accessory packages to choose from, the specific reference is as follows:
Solar Panel

25W Solar Panel

50W  Solar Panel

70W  Solar Panel

DC12V LED Light

DC12V LED Light 3W

DC12V LED Light 7W

DC12V LED Light 12W

DC12V LED Light 18W

DC12V LED Light 24W
300W 48V 48v dc ups system| 48vdc battery backup Designed for Outdoor UPS Battery Backup Enclosure Share on facebook Share on twitter Share on linkedin
Read More »