Outdoor UPS Cabinet-Edge Equation Lite U300
300W Outdoor UPS Modular Cabinet
One Equation Unlock Everything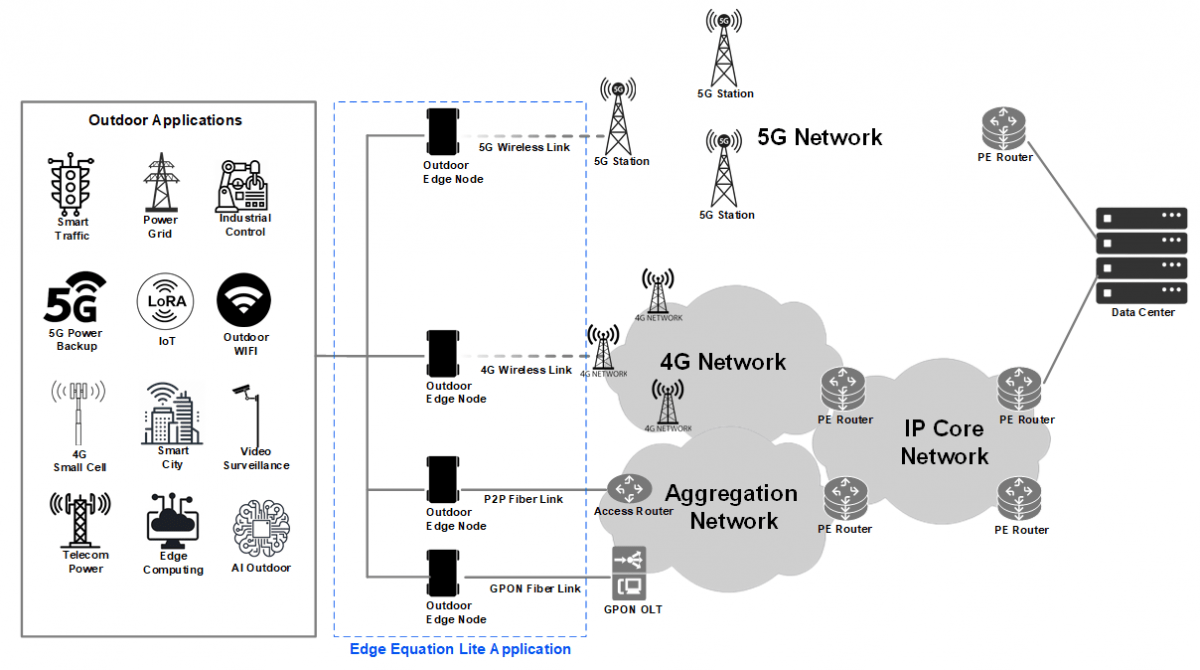 Edge Equation Lite is the outdoor ups cabinet designed for the edge network power solution.
The emergence of new technologies such as the Internet of Things, 5G, AI, and edge computing has greatly changed the richness of outdoor applications. However, the diversity of outdoor applications makes the deployment scenarios of outdoor edge network nodes diverse and complex. The new generation of outdoor edge node Edge Equation Lite Modular Cabinet developed by Edgeware is designed for this scenario, simplifying the outdoor deployment of the edge network, adapting to complex and changing scenarios, and providing the following key functions:
(1) System lightning protection
(2) UPS and backup power/solar and backup power
(3) Battery
(4) Backhaul network
(5) Whole system monitoring
The evolution trend of outdoor applications is getting faster and faster. With the gradual maturity of technologies such as 5G, IoT, and Starlink, it can be seen that more and more outdoor applications will appear in the future. Different applications have different requirements, which increases the complexity of outdoor deployment.
The core functions of outdoor applications also tend to become more complicated, requiring a one-stop solution for power supply, network backhaul, installation, operation and maintenance, and environmental challenges.
The complexity of applications and the complexity of core functions make outdoor deployment full of challenges.
Outdoor UPS Cabinet Internal Structure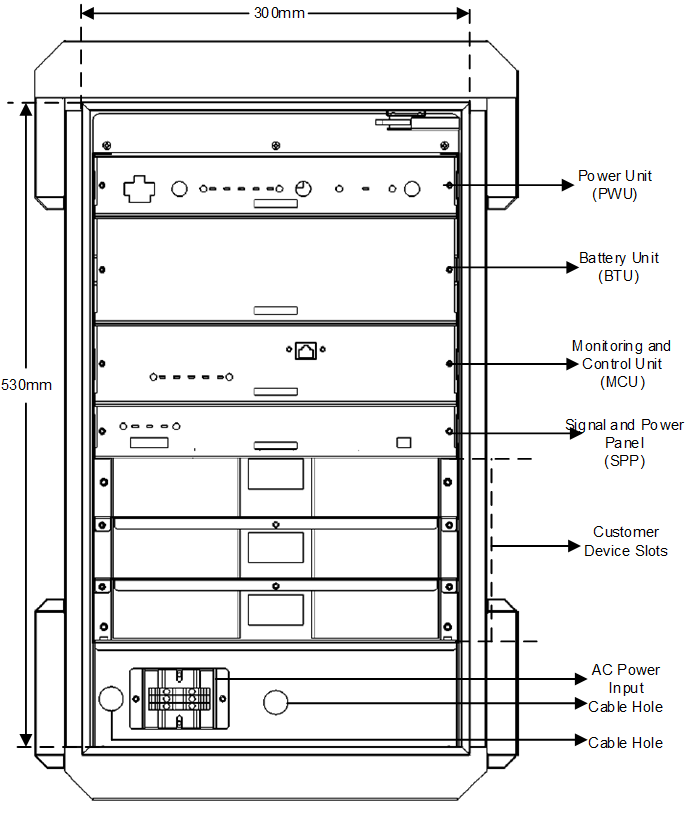 The structure of Edge Equation Lite Outdoor UPS Cabinet is based on slots, and each functional slot is divided and solidified. The overall structure is compact, miniaturized as much as possible to simplify installation and maintenance. In the slot design, the following slots are fixed slots:
PWU(Power Unit)
BTU(Battery Unit)
MCU(Monitoring and Control Uni)
SPP(Signal and Power Panel)
Customer Device Slots
Although the overall fixed slot design, it can be customized, enlarged and reduced according to the actual project needs of the customer.
The structure is made of stainless steel to adapt to the complex outdoor conditions. The overall protection level reaches IP55.
Items

Specification

Dimension Outside

400mm*235mm*630mm(W*D*H)

Size can be customized

Dimension Inside

300mm*210mm*530mm(W*D*H)

Size can be customized

Cabinet Material

Stainless Steel

Ingress Protection

IP55

Weight

14kg

Fixed Slots

Power Unit(PWU 1U)

Battery Unit(BTU 3U 48V15.6AH,can be customized )

Monitoring and Control Unit(MCU 1.5U)

Signal and Power Panel(SPP 1U)

 Flexible Slots

Customer Device Slot

(Default 5U Can be Customized bigger)

Customer Battery Space

(Can be Customized 0-14U for Lead Acid Battery )
System Architecture of Edge Equation Lite U300 Outdoo UPS Cabinet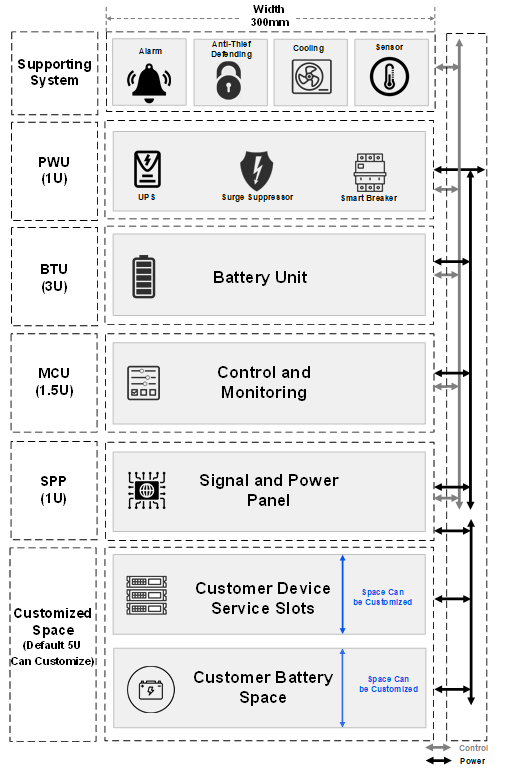 The whole system of Edge Equation Lite U300 outdoor UPS cabient is based on slots design with best space usage efficiency. Each slot is highly integrated with their respective functions, and the entire system is interconnected in the form of a motherboard through the SPP slot to minimize cabling problems in general outdoor cabinet solutions. The system is divided into two parts: fixed slot and variable slot, PWU, BTU, MCU, SPP and customized customer equipment space. To ensure that standardized requirements are more reliable, and the architecture can adapt to customer customized requirements.
The main function units are as followings:
PWU as Power Unit provides the 300W ups power as well as surge protection, short circuit protection functions.
BTU as Battery Unit provides backup battery power to the system. Default configuration is 48V10AH lithium battery. We also provide customization services to enlarge the battery while meanwhile BTU will occupy more space.
MCU is the control and monitoring unit provides the monitoring for the whole cabinet system. This unit will communicate with Edgeware Convergence Platform to provide remote monitoring and management functions.
SPP is the slot that provide the interconnection of the whole system.
CSS as Customer Device Service Slots provides the space for your devices that will install in our cabinet. This space is changeable based on your request.
Customer Battery Space: If you want to use your own lithium battery or AGM GEL battery, we can also prepare the space based.
Based on this architecture, Edge Equation Lite can take into account both standardization and customization, so that the product can meet your deployment requirements in various scenarios to the greatest extent.
General

Applications

Model

Edge Equation Lite U300 Outdoor UPS Cabinet

Version

V02R2101U

Application Scenarios

Outdoor Cabinet,

Outdoor Power Solution,

Outdoor UPS Cabinet,

Power Storage Cabinet,

Video Surveillance Cabinet,

CCTV Power Cabinet ,

Satellite Power Cabinet,

Satellite Site Power Backup, Outdoor

AI Site Power Backup,

Outdoor Edge Computing Power Backup,

Smart City Power Solution,

IoT Aggregation Site Power Backup,

Telecom Outdoor Site,

Remote Education Outdoor Site

Cabinet Basic  Specification

Dimension Outside

400mm*235mm*630mm(W*D*H)

Size can be customized

Dimension Inside

300mm*210mm*530mm(W*D*H)

Size can be customized

Fixed Slots

Power Unit(PWU 1U)

Battery Unit(BTU 3U 48V15.6AH,can be customized )

Monitoring and Control Unit(MCU 1.5U)

Signal and Power Panel(SPP 1U)

Flexible Slots(Can be Customized based on Customer)

Customer Device Slot

(Default 5U Can be Customized bigger)

Customer Battery Space

(Can be Customized 0-14U for Lead Acid Battery )

Cabinet Material

Stainless Steel

Ingress Protection

IP55

Cooling

Long life FAN controlled based on temperature

System Power Specification

Rated Input Voltage

220V/100V AC

Max Input Current

10A

UPS Rated Power

300W

System Main Voltage

DC48V

Other Voltage Options

DC12V/DC24V/DC36V/Customization

Battery

Battery Type Supported

Lithium Battery/AGM/GEL

Battery Unit Capacity (BTU)

48V 10AH Default

Can be customized to be bigger.

System Monitoring

Power System Monitoring

UPS,

Protection System Monitoring

Surge Suppressor, Smart Breaker

Environment Control

FAN Control based on Temperature

Cabinet Defending

Cabinet Door Defend

Defend Alarm

Battery Management

Battery Management System

Software Platform

Software Platform

Edgeware Convergence Software Platform
System Architecture Example
This is one example of the Edge Equation Lite U300 outdoor ups cabient configuration. It can be customized based on your requirement. 
Power Feeding Directly to Device Slot
Before using Edgeware products, our customers often had to use equipment cables to route from the power supply or UPS to the equipment, and had to use various cables of unreliable quality. At the same time, the reliability of power adapters (mostly AC to DC) given by different devices are also uneven. These not only bring extra workload to the station installation, but more importantly, greatly affect the reliability of the system.
The solution we provide is to communicate clearly with you at the design stage about the devices you put in Device Slots, their power supply interfaces, standards, and cable types. When the device leaves the factory, we have configured the cable and the corresponding power supply for you. You only need to plug the cable into your device. So as to achieve quick and simple installation.
Surge Suppression of Outdoor UPS Cabinet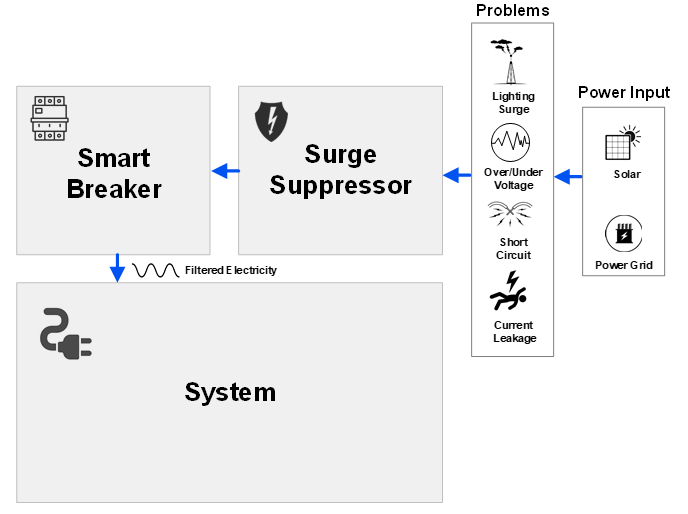 Problems from Power Input
The power input and daily operation of the power system will face challenges.
Lighting surge frequently happen in Central America during raining season.
Power grid electricity quality is not good bring over or under voltage. Solar panel voltages changes also bring same problems.
Short circuit sometimes happen will damage the whole system if we don't have protection.
Current leakage will put engineer in danger.
All in One Surge Protection and Smart Breaker Module to Give Comprehensive Protection
Surge suppressor will absorb the surge from lighting and power grid.
The smart breaker will provide over/under voltage , over current , short circuit and current leakage protection.
When these happen, the smart break will go into protection mode and can off the load power .
When the electricity comes back to normal status, the smart breaker will recover by itself. Not need on site operation.
Surge Protection Module Specification

Nominal Discharge Current-In

20kA(8/20μs)

Maximum Discharge Current-Imax

40kA(8/20μs)

Voltage Protection Level-Up

L-N:≤1.8kV,N-PE:≤1.0kV

Limited Voltage-Up

L-N:≤1.2kV,N-PE:≤0.8kV (5kA,8/20μs)

Temporary Overvoltage Features-UTOV

L-N:400V/5sec, N-PE:1200V/200ms

Short-Current Withstand

25kArms

Smart Breaker Module Specification

Rated Voltage

110VAC/220VAC

Input Voltage

AC110V-285V,50Hz

Rated Current

10A

Leakage Protection

Remaining operating current: 30mA Remaining non-operating current: 15mA Operating time: ≦50mS

Overvoltage Protection

Overvoltage point: 280V action time ≦ 3S (overvoltage and under voltage recovery: 8V

under voltage point: 120V action time ≦3S Over-voltage recovery delay: 30S)

Under Voltage Protection

Overcurrent Protection

Overcurrent point: 1.15In action time ≦ 3S

Short circuit Protection

Short circuit overcurrent point 3In action time ≦50mS (self-locking after short circuit)

Lightning Protection

Anti-shock current, 8/20μS combined wave is not less than 10kA;
Three Levels Anti-thief of Outdoor UPS Cabinet
Door Defending Alarm
Edge Equation Lite is equipped with fortification function. When the device is in the defense state, if someone opens the cabinet door, a 100dB alarm buzzer will sound. At the same time, the Convergence platform at the headquarters will receive an alarm.
High Quality Mechanical Lock
Edge Equation Lite is equipped with two high-quality triangular mechanical locks. It is difficult to unlock through general unlocking methods. At the same time, the master key is adopted for easy management.
Remote Control Magnetic Lock
Magnetic lock can be configured in the system to perform remote control functions.
Outdoor UPS Cabinet Battery Management
Edge Equation Lite U300 outdoor UPS cabinet has a built-in lithium battery module with BMS, which can report important information such as battery voltage and current charge and discharge status to Edgeware's Convergence Platform. The most important thing is that the BMS will report the health of the battery. When the battery needs to be replaced, it will report to the Convergence Platform.