Solar Power Enclosure-Edge Span S60-LSP
500W Solar MPPT, POE Switch All in One System(Work with Edge Span B60 Battery System)
Product Overview
Edge Span S60 LSP is an All in One Solar Power Enclosure designed by Edgeware for outdoor edge access, 5G ToB, WIFI AP power, IoT Power etc. The product is highly integrated, including high-performance lithium battery, solar controller, Layer2 POE switch, and whole system monitoring module. At the same time, taking into account the complexity of the outdoor environment, the whole system is designed with IP65 and IK08 high protection for long-term operation, reducing the frequency of on-site maintenance, and reducing OPEX and TCO.
Edge Span S60-LSP Solar Power Enclosure Application

Edge Span S60-LSP Solar Power Enclosure is designed for edge access scenarios. In scenarios with low power at the edge and no utility power, rapid deployment can be achieved through Edge Span S60-LSP. It is no longer restricted by the mains electricity. At the same time, this product can customize different uplink interfaces according to customer requirements, such as GPON, 10/100/1000M Base-X SFP optical port, or 10/100/1000M Base-T electrical port. The downstream port can be customized according to the requirements of the GE port, the downstream port supports 802.3 af/at by default. For scenarios that require 802.3 at, we can also add customized modules according to customer needs.
Edge Span S60-LSP Solar Power Enclosure supports various Layer 2 protocols such as VLAN, MSTP, LACP, etc. It can be used as a powerful access switching node. The forwarding rate is 128Gbps.
Edge Span is a one-stop product based on the design concept of Edge Ware All in One. The plug and play of the whole machine can greatly help customers to deploy quickly and simply maintain.
Edge Span S60-LSP Solar Power Enclosure Specification

Dimension

W*H*D 295mm*355mm*150mm

Weight

7.8kg(with all system)

Material

Aluminum

Ingress Protection

IP65

Heat Dissipation

No fan design, natural heat dissipation

System Operating Temperature

-20~+75°C, 5%~90% RH Non condensing

Solar Controller

500W DC48V 10A MPPT solar controller with remote control

Battery

External battery Edge Span B60 or B200

Network and System Surge Suppression

Contact discharge 8KV, air discharge 15KV, port lightning protection common-mode 4KV, differential mode 2KV

Network Module:

GE Downlink: 3*10/100/1000M Base-T ports

GE Uplink : (1-2) *10/100/1000M Base-X or Base T port

Layer 2 POE switch module manageable or non-manageable

Port number can be customized

PoE:

Downlink ports support

802, I.3 at/af, max PoE power 90W. 

802.3 bt 60W POE module optional.

Output Power

DC12V DC48 can be customized based on requirement

Output and Input Signal

DI/DO RS485 can be customized based on requirement

System Monitoring and Management

Work with Edgeware Convergence software platform to perform system monitoring and management

Environment Monitoring

System temperature, humidity.

Box open and close status

Solar Monitoring and Control

Solar power generation, usage and battery charge statistics

Solar system working status

Solar system remote turn on/ off based on time scheduling

Battery Status Monitoring

Battery voltage , current, remaining capacity, temperature

Battery working status, battery charge and discharge current

Battery health estimation( Battery life time estimation )

External Light Control

External light control t

Typical Application Scenario

cctv cabinet,solar cabinet, solar termination cabinet, Solar Controller enclosure, video surveillance cabinet, IoT Cabinet, IoT device enclosure, IoT enclosures

Smart City, Industrial Control, video surveillance, Telecom

Network Module Switching Capacity

128Gbps

MAC

8K

Network Module Protocol Supported

4K VLAN based on port, IEEE802.1q VLAN based on the protocol, VLAN based on MAC QinQ configuration, Port configuration of Access, Trunk, Hybrid

LACP, Static aggregation, Max 3 aggregation groups and 8 ports per group.

STP (IEEE802.1d),RSTP (IEEE802.1w),MSTP (IEEE802.1s)

MLD Snooping v1/v2,Multicast VLAN IGMP Snooping v1/v2, Max 1024 multicast groups, Fast log out

Bidirectional data mirroring based on port

Flow-based Rate Limiting Flow-based Packet Filtering 8*Output queues of each port 802.1p/DSCP priority mapping Diff-Serv QoS,Priority Mark/Remark Queue Scheduling Algorithm (SP, WRR,)

Port-based Issuing ACL,ACL based on port and VLAN L2 to L4 packet filtering, matching first 80 bytes message. Provide ACL based on MAC, Destination MAC address, IP Source, Destination IP, IP Protocol Type, TCP/UDP Port, TCP/UDP Port Range, and VLAN, etc

IP-MAC-VLAN-Port binding ARP inspection,Anti-DoS attack AAA & RADIUS,MAC learning limit Mac black holes,IP source protection IEEE802.1X & MAC address authentication Broadcast storm control,Backup for host datum

SSH 2.0,SSL,Port isolation,ARP message speed limit User hierarchical management and password protection

DHCP Client,DHCP Snooping,DHCP Server,DHCP Relay
Edge Span S60-LSP Solar Power Enclosure Interfaces
Notes: This is one example of the configuration, we can customized based on your requirement.
Edge Span S60-LSP Solar Power Enclosure Work with External Battery 
Edge Span S60 LSP Solar Power Enclosure requires an
external lithium battery to work. The following are two matching lithium
batteries:
Edge Span B60 Battery Blade Specification

Dimension

W*H*D 295mm*355mm*150mm

Battery

48V25AH LiFePO4 Lithium Battery

Life Cycles

DoD 3000 Cycles

Edge Span B200 Battery Blade Specification

Battery

W*H*D 295mm*355mm*150mm

Protection

48V50AH LiFePO4 Lithium Battery

Life Cycles

DoD 3000 Cycles
We can also customize lithium batteries with different capacities to match your scenario.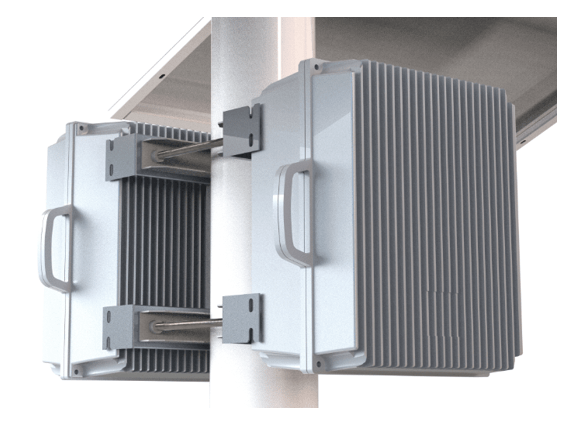 Main Blade and battery blade support back to back mounting. ( Need to know the pole diameter)
System Monitoring
All Edge Span products can be equipped with a monitoring unit. When you configured this component, the core functional units in Edge Span can be under the management of Edgeware Convergence Software Platform. This function is especially important when deploying in large-scale outdoor sites. It will greatly simplify your daily maintenance and trouble shooting, thereby saving OPEX.
In some scenarios, customers will have some equipment such as sensors or control systems that need to be integrated into our software platform. We can do this by configuring a monitoring unit on Edge Span.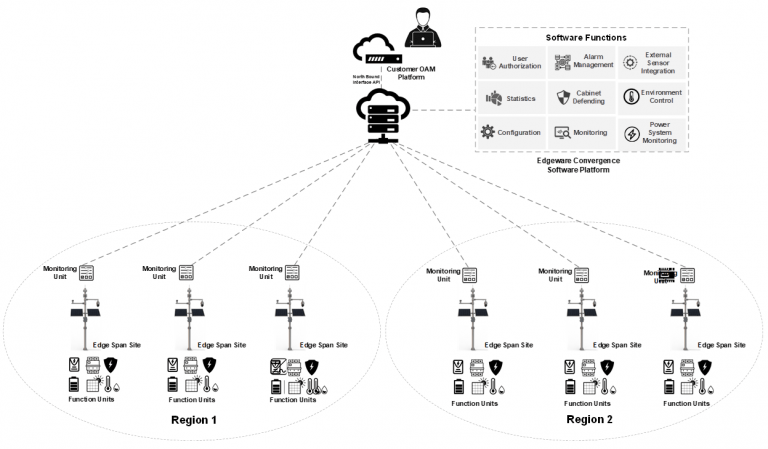 When Edge Span is equipped with a monitoring unit, customers can easily implement remote site maintenance. Different sites can be set to different maintenance groups and assigned to different team to perform specific tasks in real time. Our Convergence Software Platform also has a northbound API interface, which can be opened to the customer's superior OSS system to facilitate customer integration of the entire network management.
Solar Energy Statistics 
Solar Energy Statistics 
Solar Power Generation statistics
Battery status statistics
Power load usage
All key parts and parameters monitoring.
To help customer manage the site remotely.
Solar Controller Remote Turn On and Off
Averagely 70-80% battery capacity is prepared for the system operating after sunset.
But in some scenario, we don't need to keep system running during the night.
With Edgeware Convergence Platform, customer can schedule the switch on and off the system power based on time.
Thus to use the battery more efficient to reduce the battery capacity configuration.
External Devices Power Providing and Monitoring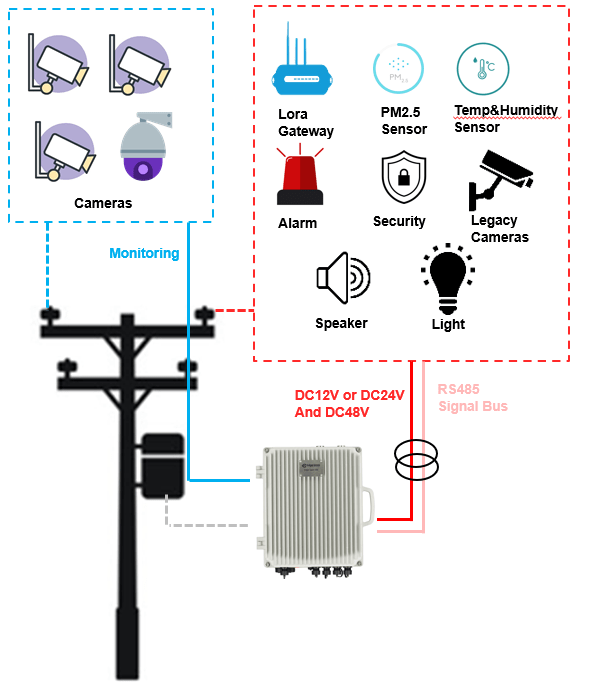 Legacy Camera Power Providing
Legacy cameras can not support POE functions. To upgrade a existing site, we need to provide power to them using legacy way.
Edge Span provides DC12V or DC24V and DC48V.
IoT Devices , Sensors, Alarm, Speakers and Light Power Providing
Edge Span can be power source for all the devices on the pole.
Edgeware can provide customizations to the power cable to adapt customer devices.
DC12V or DC24V and DC48V is available.
External Devices Control
Edge Span provides an external RS485. In some cases , Edgeware could provide software customization to help customer integrate external sensors.
Camera Status Monitoring
Edge Span can help customer to monitor the camera online status that is connected to Edge Span.
Thus one site operation can be unified.
Comprehensive Structure Design for Harsh Environment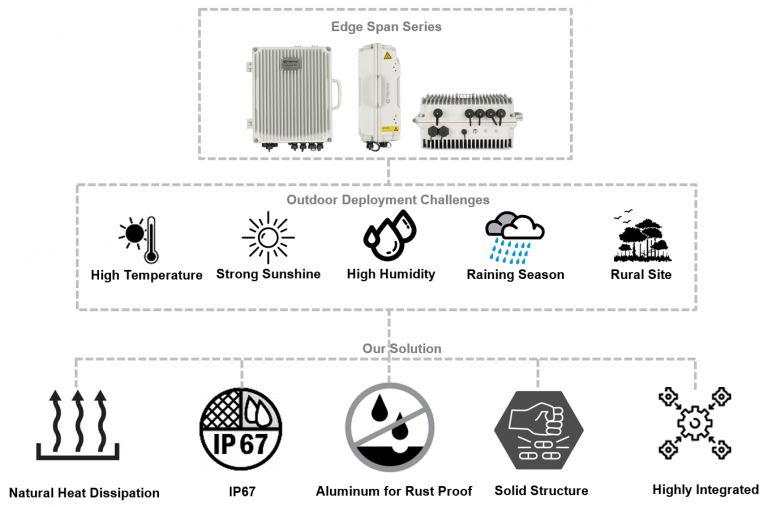 High Efficient Natural Heat Dissipation with Aluminum Material
No FAN design, improve system MTBF.
High efficient aluminum material to guarantee high efficient heat dissipation.
Whole system attached to the aluminum case to make sure key parts in appropriate temperature
Full Sealed Design with IP67 Ingress Protection
Full sealed system for better water-proof performance.
Full sealed system improve system MTBF and outdoor adaptability.
Raining season, high humidity will not affect the system anymore.
Full Aluminum for 100% Rust-Proof
Full aluminum material constructed, fully rust-proof .
Designed especially for the complex environment in Latin America.
Targeting 10 years life time outdoor deployment.
Solid Structure
Enhanced structure designed for outdoor usage.
Difficult to destroy the system. Good for complex environment deployment such as jungle , desert and national boarder.
Highly Integrated System
Small but complete functions
Light and solid , easy installation.