Telecom Outdoor UPS IP65 1KW 2KW 3KW-Edge Span U1000
1KW 2KW 3KW Outdoor UPS Power Backup Enclosure for Telecom High Reliablity Scenario
Edge Span Tiny PWU(Power Unit)
Edge Span Tiny NSU(Network Unit)
Edge Span Tiny Pole Mount
Edge Span Tiny U100 Edge Industry PowerCube Product Overview
Edge Span Tiny U100 is an Edge Industry PowerCube designed for small Outdoor Edge Network scenarios. The scenarios that this model is specifically aimed at are as follows:
All in One Power Solution that provides power backup and network backhaul for outdoor nodes with 1-2 cameras
Provide power backup and network backhaul for outdoor IoT aggregation nodes
Provide customized power backup and network backhaul solutions for Edge Industrial Scenario. Reserve RS485.RS232, DI/DO.AI and other interfaces.
Edge Span Tiny Edge Industry PowerCube Specification Overview
Model

 Function

Input

Output

Rated Power

Battery

Dimension

Ingress Protection

Customization

Edge Span Tiny U100-PWU

Outdoor UPS Enclosure

110V/220V AC

DC48V and DC12V

Option 1:100W

Option 2:200W

Option1:48V4.8AH

Option2:48V9.6AH

231mm*321mm*135mm

(W*H*D)

IP65/NEMA4

Available

Edge Span Tiny U100-NSU

Outdoor Network Equipment Enclosure

DC48V and DC12V

2-4 GE with POE/POE+

RS485,RS232,DI/DO.AI

N/A

N/A

231mm*321mm*135mm

(W*H*D)

IP65/NEMA4

Available

Typical Application

•Power Supply for Security Cameras, Surveillance Camera Power Supply, Video Surveillance Enclosure

•Outdoor IoT Deployment with UPS Power Backup

•Outdoor UPS Enclosure

•Rugged UPS
Edge Span Tiny Edge Industry PowerCube Application Scenario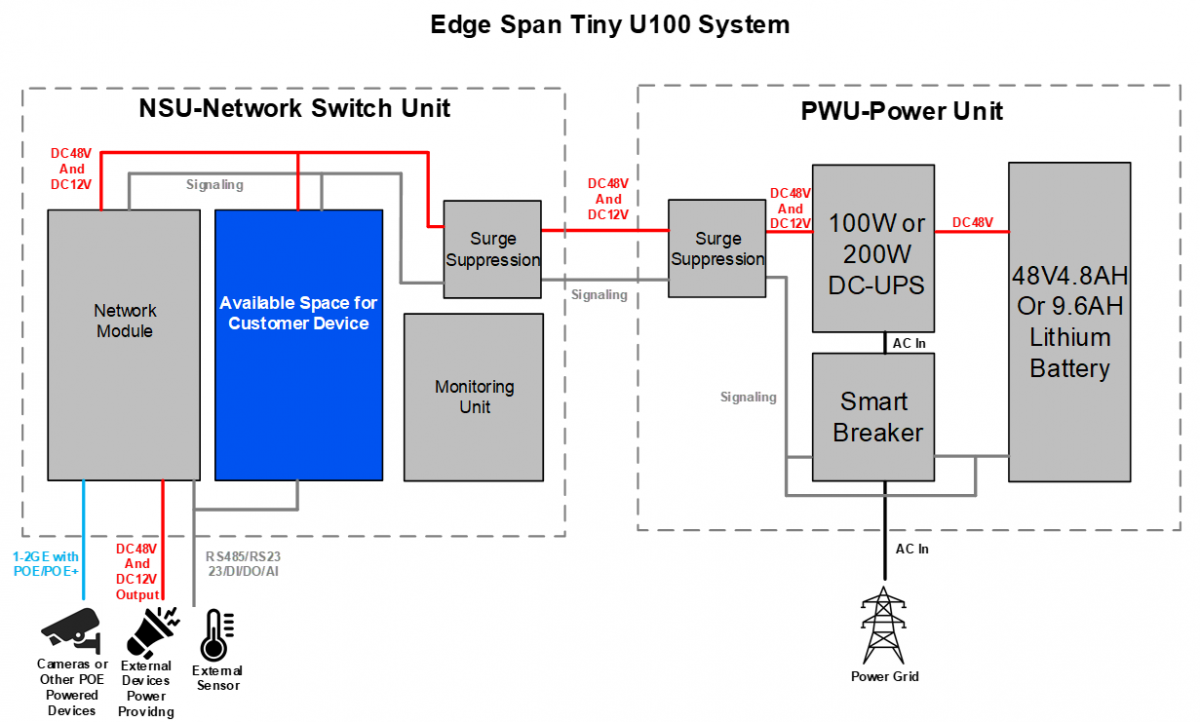 Edge Span Tiny U100 Edge Industry PowerCube separates the power unit and the network switch unit, so that customers can match them according to Edgeware's series of products to meet the changing scenarios. For example, PWU can be replaced with solar power enclosure, thus turning the system into a remote solar power system.
As the power supply of the whole system, PWU provides reliable and stable power for the system. As an Edge Industry PowerCube, PWU fully considers the challenging outdoor environment, and the whole system is designed for IP65 and reaches the IK08 protection level. The DC-UPS, Smart Breaker, and lithium batteries in the system are all optimized for outdoor harsh environments, and they are all industrial-grade devices. The PWU has DC48V and DC12V output, which is convenient for supplying power to the network equipment in different scenarios of customers with different voltage requirements inside the NSU. The PWU also outputs the status of the battery, Smart Breaker, Surge Suppressor and DC-UPS through the signal interface in order to meet the monitoring requirements of the system.
NSU provides good protection as an Outdoor Network Equipment Enclosure. The input interface receives the power of DC12V and DC48V, and at the same time inputs the status information of the PWU for monitoring and management. NSU reserves the space for customer network equipment, which can be customized according to the requirements of customer equipment. The Monitoring Unit built into the PWU reports system status information to Edgeware's Convergence Platform. NSU has reserved DC12V/DC48V power supply for external output, with a maximum of two GE POE/POE+ interfaces and RS485/RS232/DI/DO/AI interfaces.
Flexible and Customizable System to Meet Changing Requirement
As the Edge Industry PowerCube deployed in the Outdoor Edge Network, it will inevitably encounter various scenarios and requirements, and it is impossible to remain the same. In order to meet this challenge, Edgeware's Edge Span Tiny provides customers with a very complete power supply device as the basic unit of the system for customers to choose, and we can also customize the design according to customer needs. In terms of basic network components, Edgeware has a very complete portfolio that can be integrated into the NSU system. If customers want to use their own network equipment to be placed in the Edge Span Tiny NSU, we also provide case by case customization services to match your needs.
Edge Span Tiny U100 Features
The entire Edge Span Tiny U100 Edge Industry PowerCube system is constructed with an IP65/NEMA4 grade aluminum housing with strong outdoor corrosion resistance. And the system is fully sealed and can be deployed in any area without fear of environmental challenges.
Good heat dissipation design and all industrial-grade devices make the system no longer rely on fans, but rely on natural heat dissipation. Therefore, the system no longer needs to be maintained and replaced due to the fan.
2.Highly Reliable and Versatile UPS System
Edge Industry PowerCube system is used in various and complex environments. The UPS systems we developed for the system are all based on outdoor harsh environment design and have industrial-grade stability and reliability, and can adapt to an ambient temperature of 60°C.
Based on the diversity of usage scenarios, we provide both DC48V and DC12V voltages. We can also add various voltage systems according to customer requirements.
3.Comprehensive Lightning and Surge Protection
The Edge Industry PowerCube is used in an outdoor environment and is inevitably threatened by lightning and surge. Based on Edgeware's rich experience in outdoor lightning protection, we have designed perfect lightning protection for both signal and power systems.
At the same time, based on Edgeware's smart breaker, it realizes the protection of over-voltage, under-voltage, over-current and short-circuit.
4.Complete Network Scenarios
Edgeware positions the Edge Industry PowerCube at the Outdoor Edge Network's network location. The network faced in this scenario is very complex. With a complete network product portfolio, Edgeware can provide customers with complete network basic modules from 5G, 4G, Wireless P2MP, Switch, Router, GPON, etc. to help customers cover complete scenarios.
5.Rmote Moitoring Software Platform to Simplify Operation
Edgeware has always emphasized that CAPEX and OPEX are equally important. The core of reducing the OPEX of the Edge Industry PowerCube scenario is to provide complete Remote Monitoring.
Based on Edgeware's Convergence Software Platform, it can realize complete remote monitoring for customers.
Edge Span Tiny U100-PWU Specification
Edge Span Tiny U100 Edge Industry Power Cube-PWU Specification

Dimension

W*H*D 231mm*321mm*135mm

Weight

7kg(with all system)

Material

Aluminum

Ingress Protection

IP65

Heat Dissipation

No fan design, natural heat dissipation

System Operating Temperature

-20~+75°C, 5%~90% RH Non condensing

AC Input

AC110V/220V 50/60Hz

DC Output

DC48V and DC12V

DC-UPS Rated Power

100W

200W

Smart Breaker

Remote control power on and off from Edgeware convergence platform

10A 110v/220v

Leakage Protection

Overvoltage Protection

Under Voltage Protection

Overcurrent Protection

Short circuit Protection

Lightning Protection

Battery

48V4.8AH lithium battery with or without BMS

48V9.6AH lithium battery with or without BMS

Network and System Surge Suppression

Contact discharge 8KVa, air discharge 15KVa, port lightning protection common-mode 4KVa, differential mode 2KVa

Power Line 20KVa

System Monitoring and Management

Work with Edgeware Convergence software platform to perform system monitoring and management

Environment Monitoring

System temperature, humidity.

Box open and close status

Battery Status Monitoring

Battery voltage , current, remaining capacity, temperature

Battery working status, battery charge and discharge current

Battery health estimation( Battery life time estimation )
Edge Span Tiny U100-NSU Specification
Edge Span Tiny U100 Edge Industry PowerCube-NSU Specification

Dimension

W*H*D 231mm*321mm*135mm

Weight

5kg(with all system)

Material

Aluminum

Ingress Protection

IP65

Heat Dissipation

No fan design, natural heat dissipation

System Operating Temperature

-20~+75°C, 5%~90% RH Non condensing

DC Input

DC48V and DC12V

Network and System Surge Suppression

Contact discharge 8KVa, air discharge 15KVa, port lightning protection common-mode 4KVa, differential mode 2KVa

Power Line 20KVa

Default Network Module:

GE Downlink: 2*10/100/1000M Base-T ports  ( Can be 4 Ports ) 802.3 at/af Supported

GE Uplink : 1*10/100/1000M Base-X  and 1*10/100/1000MBase-T port

1*RS485 1*RS232

4*Ports can be defined as DI/DO/AI

Optional Network Modules

5G Module

4G Module

GPON Module

Features Supported

4K VLAN based on port, IEEE802.1q VLAN based on the protocol, VLAN based on MAC QinQ configuration, Port configuration of Access, Trunk, Hybrid

LACP, Static aggregation, Max 3 aggregation groups and 8 ports per group.

STP (IEEE802.1d),RSTP (IEEE802.1w),MSTP (IEEE802.1s)

MLD Snooping v1/v2,Multicast VLAN IGMP Snooping v1/v2, Max 1024 multicast groups, Fast log out

Bidirectional data mirroring based on port

Flow-based Rate Limiting Flow-based Packet Filtering 8*Output queues of each port 802.1p/DSCP priority mapping Diff-Serv QoS,Priority Mark/Remark Queue Scheduling Algorithm (SP, WRR,)

Port-based Issuing ACL,ACL based on port and VLAN L2 to L4 packet filtering, matching first 80 bytes message. Provide ACL based on MAC, Destination MAC address, IP Source, Destination IP, IP Protocol Type, TCP/UDP Port, TCP/UDP Port Range, and VLAN, etc

IP-MAC-VLAN-Port binding ARP inspection,Anti-DoS attack AAA & RADIUS,MAC learning limit Mac black holes,IP source protection IEEE802.1X & MAC address authentication Broadcast storm control,Backup for host datum

SSH 2.0,SSL,Port isolation,ARP message speed limit User hierarchical management and password protection

DHCP Client,DHCP Snooping,DHCP Server,DHCP Relay